Recent Posts
Praise
"Pletcher and Bartolameolli are undisputed experts on the subject of co-sex addiction. They know more about it than anyone I know and have presented an expose that with great clarity supersedes anything I have read before."

– John Bradshaw
Praise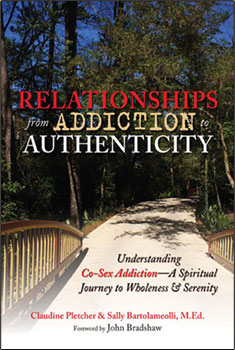 "The authors brilliantly illuminate the way back to hope, wellness, and most of all, self-loyalty."
– Dr. Paul Dunion, author of Shadow Marriage: A Descent into Intimacy
"This valuable resource offers hope to those touched by co-sex addiction."
– Abi Williams, Ph.D., LCSW, certified sex-addiction therapist
"This must-read will allow many to move from the shame and shadows of co-sex addiction into the promise of healthy fulfilling relationships."
– Michael Neatherton, Executive Vice President and Chief Operating Officer, Betty Ford Center
"In our present culture, with sexual shamelessness at an all-time high, I cannot imagine a more important book than this one."
– John Bradshaw